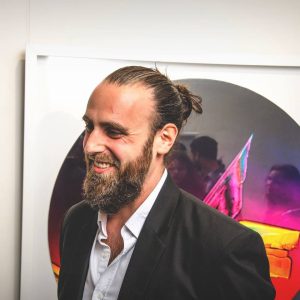 Darren Wertheim is an award-winning filmmaker based in Sydney, Australia.
With more than 14 years of international experience, he is a cinematographer, director, producer and content strategist.
Originally from Cape Town, South Africa, creating beautiful content efficiently and with limited budgets is where Darren shines, using innovative solutions to ensure all projects are delivered to the highest standard, to budget and deadline.
A skilled technician with high and low-end cameras for both film and digital (Arri, RED, Sony, Canon, Black Magic, etc), Darren prides himself on his broad range of expertise and his personable working nature, allowing him to get the best performance from talent and put clients and agency partners at ease. A great problem solver, Darren is also great under pressure, coming up with solutions both individually and as a team to get the right outcome for the project and its parameters.
During his studies at (AFDA Cape Town), Darren shot seven short films, three of which were on film. Two of his graduation films were selected for various international and local film festivals and respectively received a number of awards.
In 2006 Darren graduated with an Honours Degree in Motion Picture Medium and Dramatic Arts, and was chosen for the Dean's list for Excellence in Cinematography.
After graduating he co-founded Chasing Migada Productions with busines partner Quinton Lavery, with the vision of creating an independent filmmaking culture in South Africa. Among a variety of projects, they also worked with leading music artists and completed a feature film "Casting Me" which was accepted into one local and two international film festivals, and secured worldwide digital distribution.
In 2014 Darren became the Producer and Cinematographer for comedy duo 'Derick Watts & the Sunday Blues', and was responsible for establishing their YouTube channel and its content. To-date this partnership has produced videos garnering over 70 million views with more than 170,000 subscribers, and in more recent times has evolved commercially to produce commercials and sponsored content for leading global brands.
In 2018 Darren moved with his family to Sydney and has done projects with Google, GHO and several direct clients.
Darren has also established himself as a photographer and content creator for boutique brands Little Wildling Co (luxury tea), Frankie & Jet (talent management and creative agency) and even Shane Warne's new gin company, 708.
Showreel here