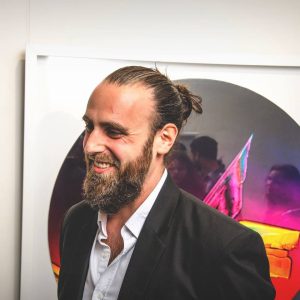 Darren Wertheim is a freelance cinematographer, producer, and co-owner of Chasing Migada Productions. He is currently based in Cape Town, South Africa, where he has been a working Cinematographer and Producer for the last 12 years.
During his studies at (Cape town branch) AFDA (2002-2006) Darren shot seven short films, three of which were shot on film. His graduation film 'Freedom Days' (2005) and Honours film 'Barren' (2006) were selected for various international and local film festivals and respectively received a number of awards.
In 2006 Darren graduated with an Honours Degree in Motion Picture Medium and Dramatic Arts and chosen for the Dean's list for Excellence in Cinematography. After graduating he co-founded Chasing Migada Productions with Quinton Lavery with the vision of creating an independent filmmaking culture in South Africa.  Having started with low-budget projects (mainly music videos for top local bands such as 'Tait'; 'The Ragdolls'; 'Hey Mister'; '7th Son'; 'Unit R' and 'Lark' for which they also produced the acclaimed DVD 'A Dagger and a Feather') and without the luxury of big budgets, the Chasing Migada team had to push themselves creatively within the framework of low-budget filmmaking as to maintain the high-quality professional standards which is part and parcel of the company's general ethos .
In 2011 Chasing Migada Productions established a collaborative relationship with Van Coke Kartel, shooting two music videos for the songs 'Dis 'n Land' and 'Tot die Son Utikom' found in the band's album 'Wie's Bang'. 'Dis 'n Land" won best rock and group, and 'Tot Die Son Uitkom' won best video of the year at the 2013 MK Awards.
During 2011 Chasing Migada also endeavoured to complete their first feature film – a low budget comedy titled "Casting Me…" which has been accepted into one local and two international film festivals, subsequently securing a  US sales-agent working on distribution of the film in North America. Local release is due  in 2013.
In 2014 Darren became the Producer and Cinematographer for local comedy duo Derick Watts & the Sunday Blues. To this date this partnership has produced videos garnering over 8 million views. It has also evolved into making commercials and online content for various top brands.
Awards & Nominations:
PENDORING AWARDS 2015
"Francois van Coke & Karen Zoid – Toe Vind Ek Jou" Music Video
WINNER – SILVER – Craft Cinematography
——————————————————————————————————————————
LOERIES AWARDS 2014
"Project Trapped – EfferFlu C" Commercial
WINNER – SILVER – Integrated Campaign
WINNER – SILVER – Digital and Interactive
WINNER – SILVER – Digital Integrated Campaign
——————————————————————————————————————————
SHORT & SWEET MUSIC VIDEO AWARDS 2015
Nominated for Best Cinematography – "Jack Parow – Bloubek"
Nominated for Best Hip Hop Video – "Jack Parow – Bloubek"
——————————————————————————————————————————
MK AWARDS 2013
Winner Best Video of the Year – "Van Coke Kartel – Tot Die Son Uitkom"
Winner Best Rock Video of the Year – "Van Coke Kartel – Dis 'n Land"
Winner Best Group Video of the Year – "Van Coke Kartel – Dis 'n Land"
——————————————————————————————————————————
Dean's List for Darren Wertheim: Excellence in Cinematography, AFDA, 2006
Best 4th year film 2006 for "Barren", AFDA
WINNER – BEST SHORT FILM 7th Sometime in October International Film Festival 2007
Best 3rd year film 2005 for "Freedom Days", AFDA
Special Mention Jury Award 14th Chilean International Short
Film Festival 2006, Chile, for "Freedom Days"
Special Mention in The Kindom Film Festival 2007, South Africa, for "Freedom Days"
Credits (Director of Photography – #, Producer – *):
2018 – " PEP – Stylo Cellphones" Commercial #
2018 – "DERICK WATTS & THE SUNDAY BLUES – Don't Be So White" Music Video #*
2018 – "HEART AND STROKE FOUNDATION – F.A.S.T Method" Commercial #*
2018 – "METRO THE ANIMAL – Golden" Music Video #
2018 – "THE KIFFNESS – Pragtig Meisie" Music Video #*
2017 – "RE/MAX – Agent Testimonials" Commercial #
2016 – "FRANCOIS VAN COKE – Mensdom" Music Video #
2016 – "DERICK WATTS & THE SUNDAY BLUES – Cultural Appropriation at Halloween" #*
2016 – "RE/MAX – There's More" #
2016 – "DUNKIN DONUTS – DDPD" Commercial #*
2016 – "DERICK WATTS & THE SUNDAY BLUES – Ballbag President" #*
2016 – "JAMESON WHISKEY – Takes You Closer" Commercial #
2016 – "DERICK WATTS & THE SUNDAY BLUES – Pokemon Ho" #*
2016 – "THE KIFFNESS – You Say You Love Me" Music Video #
2016 – "JESSE CLEGG – Breathing" Music Video #
2016 – "DERICK WATTS & THE SUNDAY BLUES – Beats by Bulldog" #*
2016 – "DERICK WATTS & THE SUNDAY BLUES – Do You Wanna Build a Wall" *
2016 – "TRESOR & THE KIFFNESS – Evergreen" Music Video #
2016 – "DERICK WATTS & THE SUNDAY BLUES – Fart in Front of You" #*
2015 – "DERICK WATTS & THE SUNDAY BLUES – Ghosts of Myspace Past" #*
2015 – "THE KIFFNESS – We 'Love' You Too, Telkom." #*
2015 – "DERICK WATTS & THE SUNDAY BLUES – The Popular Front End (English Song)" Music Video #*
2015 – "DERICK WATTS & THE SUNDAY BLUES – The (many) Differences Between South Africans and Australians" #*
2015 – "DERICK WATTS & THE SUNDAY BLUES – Dad Bod Song (Taylor Swift Parody)" Music Video #*
2015 – "DERICK WATTS & THE SUNDAY BLUES – How to Viral" #
2015 – "Francois Van Coke ft Karen Zoid – Tou Vind Ek Jou" Music Video #*
2015 – "MNET – Dog Ambassador" Commercial (RetroViral) #*
2015 – "DERICK WATTS & THE SUNDAY BLUES – Stop the Knot" #*
2015 – "DERICK WATTS & THE SUNDAY BLUES – Angry Groom (Maroon 5 – Sugar)" #*
2014 – "DERICK WATTS & THE SUNDAY BLUES – Why Men Hate Shopping" Music Video #*
2014 – "DERICK WATTS & THE SUNDAY BLUES – Project Trapped" Commercial (Saatchi & Saatchi) #*
2014 – "VAN COKE KARTEL – Klein Wereld" Music Video #*
2014 – "FRESHSTOP – Avo's" Commercial (Big Blue Productions) #
2014 – "DERICK WATTS & THE SUNDAY BLUES – Payday" Music Video #
2014 – "JACK PAROW – Bloubek" Music Video #*
2013 – "Life is Colour" PSA Commercial #
2013 – "GUINNESS – Made of More – Hardstyle" Commercial #
2013 – HealthQ – Mojo" Spec Commercial #*
2012 – "One to One Children's Fund" Documentary and PSA's #
2012 – "VAN COKE KARTEL – Tot Die Son Uitkom" Music Video #*
2011 – "VAN COKE KARTEL – Dis 'n Land" Music Video #*
2011 – "Casting Me…" – Feature Film #*
2011 – "Are You The One?" – Commercial #
2010 – "LAVUVUZELA – Be Mine Tonight" Music Video #*
2010 – "THE SUMMER UNDEGROUND – Sleepless" Music Video #
2010 – "PIC2BOOKS" – In-Store Instructional Advert #*
2010 – "Marble Classics Ad with John Smit" Home Channel Advert #
2010 – "KILL DISCO – I Killed Disco" Music Video #*
2010 – "7TH SON – On My Holiday" Music Video #
2009 – "THE RAGDOLLS – Fifty Five Fifty" Music Video #
2009 – "THE POKER ROOM" – Nashua DVD #
2009 – "LARK: A Dagger & A Feather" Live DVD #*
2009 – "LARK – Pearly Silver" Music Video #*
2009 – "LARK – Cradle of Cable" Music Video #*
2009 – "HEY MISTER – Times" Music Video #*
2008 –"The RIKKI'S Sessions" (2008-2010) #*
2008 – "THE POKER ROOM" – Promo with Colin Moss #*
2008 – "THE POKER ROOM" – 30sec ads with Colin Moss #*
2008 – "TAIT – Star" Music Video #*
2007 – Medical Procedure Teaching Video for Dr Tom Mabin (Cardiologist) #
2007 – "UNIT R – It's All About" Levis Young Guns Music Video #*
2007 – "THE POKER ROOM" Promotional Video (With Colin Moss) #*
2007 – "METROPOLITAN INSURANCE" – Corporate TV Show #*
2007 – "LARK" – Heroin Mary, Music Video #
2006 – "RUNNING WITH SCISSORS" – Music Video #
2006 – "ONE LOVE PEOPLES CHARITY" – 30 sec PSA #
2006 – "BARREN" – Honours Short Film #
2005 – "ONLY IN DEATH" – Experimental Short Film #
2005 – "FREEDOM DAYS" – Graduation Short Film #